Last week Yvonne Cloete hosted the first Florida edition of her popular MeetUp, Quantum Energy Healing, at the Loving Life Therapy office. The goals of the group are many, but all who attend will have help learning to tap into their various energies and replace "stress, worry and fear" with "love, peace, harmony and joy."
At the first meeting, Introduce Ourselves and Open Sharing of Gifts, 25 spiritually aware (or curious) individuals gathered in our comfortable meeting room to share snacks, drinks and stories. We heard from Reiki beginners and masters, astral projectors, psychics, former preachers, and intuitives of all kinds.
Each guest explained their history with spirituality, healing, supernatural experiences, or a developing curiosity about such subjects. For many of them it was the first time they were participating in such a discussion, and the group happily provided an excellent, welcoming environment to learn in.
Once acquaintances were made everyone was invited to share their talents, and a handwriting analyst deciphered the inner personalities of those who agreed to scrawl out a short sentence. Two Reiki masters also provided free energy-healing sessions in the spa area, while other guests exchanged information and toured the Loving Life offices.
Developing Intuition
On the MeetUp page Yvonne describes intuition as going "into the soul" and explains that this involves tapping into the creative, free-form abilities of the mind (often associated with the right brain). Growing up we are often taught to appreciate the calculating, methodical traits of the mind used for mathematics and business, but to leave behind the imaginative tendencies of childhood.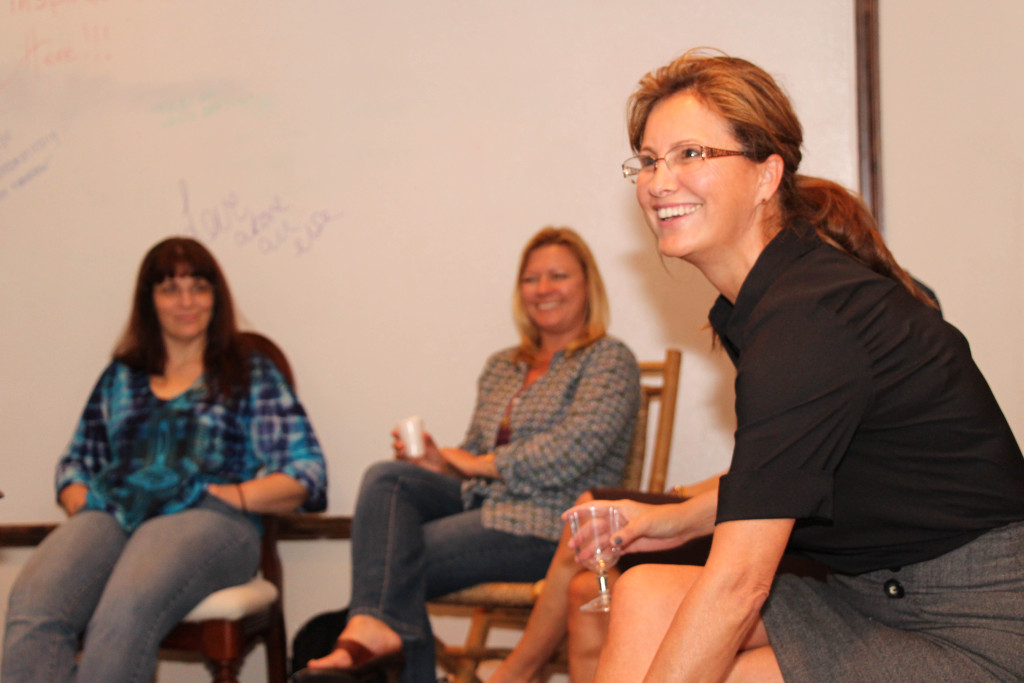 Imbalance in any part of the body causes discomfort, confusion and unhappiness. By developing her clients' intuitive abilities, Yvonne helps them balance out their anxiety and stress. Intuition is our innate sense of direction in life, and learning to trust it allows for increased confidence and comfort in the face of life's challenges.
Future MeetUps
At next week's MeetUp members are invited to enjoy a visit from professional energy intuitive Andi Schenbeck. Founder of Embracing the Infinite, Andi specializes in "vibrational alignment" – a process of freeing the mind from the limitations of fear-based belief systems. Much like our own MeetUp founder, Andi accesses information from the past lifetimes of her clients to help them achieve harmony in their present.
A lesson in developing intuition, this April MeetUp will consist of tips on trusting our inner voice, and learning to listen more closely to it. Yvonne will be leading the session, but all guests are welcome to share tips from their personal experience. Whether you've had intuitive experiences yourself, or are simply curious about the way intuition works, we hope you'll join us for discussion.
At the start of May, the co-founder of Yvonne's previous MeetUp group in Virgina will visit and introduce the group to the technique of Solaris Energy Healing. Dennis Deeg will instruct participants in both the 1st and 2nd levels of the technique, but first will hold an introduction to the technique, and himself.
We're always excited to see new faces at Loving Life, and encourage anyone interested in our MeetUp to join online – it's free and a great way to learn firsthand about our other events and services. There's also no better opportunity to meet our MeetUp founder Yvonne and learn about her work with past life regression and hypnotherapy.
Sign up online or call today to learn more and get started! And mark your calendar for the next MeetUp on May 25th. Lots of Tampa residents that share your own interests are excited to meet and share their ideas with you!